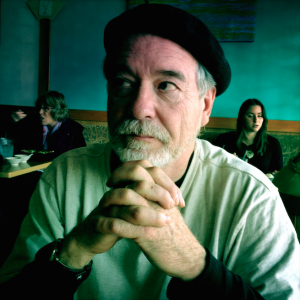 It's All About ME:
One of twenty-six children, when I fell off the pickup as we followed the Okie migration to Californ-i-ay, my absence was not – and still has not been – noticed. Luckily, the coyotes that found me had a bohemian bent. They taught me coyote aesthetics, the True American History, and cowboy cookery (how to cook a cowboy). Forced against my will to attend an Un-named Ivy League College, I double-majored in schmoozing and down-scale preppy sartoria. On graduation (summa cum probation) I joined the Foreign Legion, fell in love with a series of impossibly exotic women, smuggled drugs, arms, and cheese, then settled down to write my memoirs – all before the age of twenty!
Now, really…
I am a practitioner of handmade art. I draw, paint, and ink by hand. I cherish the ancient contract of mind/hand/medium in this increasingly digital world. There is a depth and texture – fingerprints, smudges, line quality, color variations – that still can't be caught in the Photoshop image.
In other words…
As an illustrator, writer, drawer, and painter, I enjoy creating two-dimensional symbols that clarify and amplify "reality" for both children and adults.  Art can change hearts, change minds, change regimes, change the world. It's probably the only thing that ever has (provocative statement?).
However….
I am not a Luddite; I can and do use technology (thus this e-missive). The Sea of Art is boundless; we each choose a way.
A Few True Facts/Search Engine Markers:
Born in Stillwater, Oklahoma, not long after the Great War. Raised in Dewey, near Bartlesville, schooled at the University of Tulsa where I received a BFA in Painting. I then experienced a 20 year distraction as Artistic Director of American Theater Company. We did many plays, some of which are worthy of pride. I then stood in front of a rock and roll band for a few years where I gained lifelong tinitus. Then it was off to Norfolk, Virginia, where I wrote and directed plays and managed the Virginia Wesleyan College Theater facility. I got a Masters degree from Old Dominion University. Re-married and be-daughtered, we shifted ground to Asheville, North Carolina, where I did some more theater, some adjunct teaching at Appalachian State, UNC-A, Warren Wilson College, and Montreat College. Living in Swannanoa, outside Black Mountain, I returned to illustrating, writing and painting, the results of which you see around you (virtually).
I would just like to say to my search engine friends (whom I do love, so much!): books about pet loss, girls and dinosaurs, telling time for children, Elvis Presley, time travel, Dr. Love, alternate universe, Roseland Gardens, Bouffant Flint, Monte Vista Hotel, Step Back in Time, colored pencils, Prismacolor, acrylic, scratchboard, cartoons, graphic novel, and fire safety.
Since I can't imagine anyone reading this far, I want to confess that during the Red Scare of the Fifties, I turned in my third grade teacher to the FBI. They hauled her away in late November and we were a self-governing commune for the rest of the school year. My report cards were excellent! For that year, anyway.