This is the place where you can view Jerald Pope's more grown-up stuff.
CAUTION: Pope's Nose acknowledges the existence of passion, sex, love, jealousy, envy, deviousness, war, plague, and famine - in other words - humanity.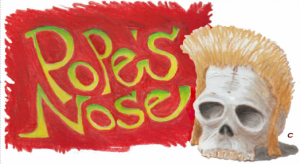 Pope's Nose
noun informal
The fleshy tail part of a chicken or other bird. Also "deacon's nose," "preacher's nose." Alt: the part of Jerald Pope's face that leads him into interesting situations.